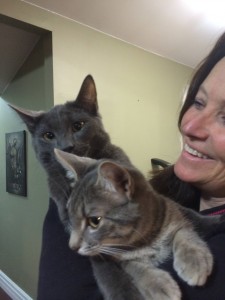 I am Dr. Sal Renshaw and I have the privilege of being the course instructor on this inaugural international placement course, GEND 3056 Sanctuary and Salvation: Saving Animals in a Global World. The idea for the course emerged as a consequence of reflecting on what's left out when we teach global issues in the absence of hands-on experience. My second year Animal Rites course offers an introduction to thinking critically about the human/animal boundary, how it has emerged and changed over the centuries and how it's still changing now as we collectively raise important questions like, for example: How should we treat primates? Should we keep cetaceans in aquariums? Are our dogs really members of our families? Should they have rights? What does it mean for the animals and indeed for us when we industrially farm them as if they were not sentient living beings? And while these are clearly critical questions, and the course has been a real success, it felt like there was something missing. The course is undeniably informed by Western philosophies, Western ways of understanding both humans and animals, and given the realities of the world we live in now and the powerful effects of globalization, the absence of different cultural voices on the question of animals is no longer tenable.
Against this background then, as we continue to hear the call from scientists that we are already well into the Holocene mass extinction – colloquially often referred to as the 6th epoch of mass extinction – a powerful question emerges: what does it really mean to think about saving animals in this context, and if it is a human goal, because it is also a human good, how can we do it? It can't be left to just the biologists, or the scientists. We will need everyone – lawyers, politicians, educators, activists, zoo keepers, farmers, and conservationists to name only a few. So while the classroom provided a fabulous introductory context to consider these kinds of questions, the world begs for a more material, more immanent response and it is in the spirit of that call that the idea for Sanctuary and Salvation emerged. We are very grateful, especially to Tan Kit Sun, Paul Crow and Gary Ades in the Fauna Conservation department at Kadoorie Farm and Botanical Gardens, and to Tony Ho, Chief Officer of the Inspectorate at the Hong Kong SPCA as well as Ho Shuping and Dr. Fiona Woodhouse for being willing to support this venture. Wish us luck as we take our first crack at delivering a for-credit course in the Arts & Sciences at Nipissing that is built around the hands-on experience of six Nipissing students who will be embedded as volunteers and who will be challenged to think about these kinds of questions as they navigate the challenges and the wonders of tooth and claw both metaphorically and literally. Hong Kong – here we come!
Oh and that's Orlando and the aptly named Tornade in the pic with me. They are the baddest cats I have ever had! And as  lifelong lover of cats, that's saying something. Here's hoping my house is still in one piece when I get home and they haven't trashed the place. They really do upend furniture as they  turn the house into a race track! Here's my favourite pic of them!