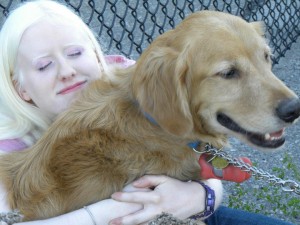 Hello – my name is Tasha Barbour.  I am a recently graduated Teacher from Nipissing University's Schulich School of Education, and a 2013 graduate of Nipissing University's English Honours program.  I am twenty-three years old, and this past year I have been trying to convert my lifestyle to be more earth-friendly.  Gradually, I have become vegetarian and have tried to both reduce what I use, and to use more renewable and animal friendly products in general.
I am a bit of a dreamer, and I love to read, and write both prose and poetry.  I enjoy art and creation, and I spend a lot of my free time drawing and sewing.  I can almost never say no to a good meal (especially when dessert is involved!), and I love long walks, preferably at night when I  feel the most comfortable.  Finally – and this is where this blog will be most concerned – I have always felt the most complete when I am in the company of animals.
I have always been an animal lover, and as a person with a disability (I am legally blind, and my fuzzy friend in the picture is my dog guide, Credit), I have had experience (if only as a fraction) of the inconsideration and exclusion that society shows toward animals, along with the denial of personhood.  I have always considered the animals in my life to be friends and companions rather than property, and I have always disliked terms like "owner" and "master"  which many people use habitually to describe animals in their care.  For the most part, I would say that I prefer the company of animals not of my own species, and even though I am as much a product of socialization as the next person, I hate to see animals mistreated, exploited, or subjected to cruelty.
I hope that my time at the Kadoorie Farm and Botanical Garden, and my experiences working with the Hong Kong chapter of the SPCA, will enrich my understanding of appropriate and responsible animal and plant custodianship, both for domestic companions and in relation to my responsibility as a citizen of the earth.  I hope to gain skills and knowledge that will allow me to pursue further conservation efforts (both home in Canada and abroad), and to help to educate the next generation on responsible general habits and exemplary animal care.  I hope to see the end of an exploitative pet and farming industry, and see the beginning of an era of compassion and understanding between humans and other animals.  Sometimes dreams are worth fighting for.